The Photo Booth
***Page Under Contruction***
Our High Tech Photo Booth offers touch screen controls and additional viewing screen outside of the photo booth.
Easy to use - Our photo booths are easy to use. You just enter the booth, sit down, and with the push of a button a countdown will advise you when each picture will be taken. A total of 4 pictures will be taken in about 45 seconds. You then step outside of the booth and two identical (2x6) photo strips will be ready in less than 10 seconds.
Prints - There is also an option of color, or black & white prints. Each time you sit down for a photo session, you can select color or B&W by pushing the appropriate button.
Quality - Our photo booths provide advanced digital photofinishing with Sony dye sublimation technology. This allows us to produce the most crisp and vibrant photo quality prints you will ever see come out of a photo booth. Plus, with its large paper capacity, we usually never have to interrupt your event to re-load.
We are more than happy to mail you a sample print, so you can see the quality of the prints yourself.
Versatility - Our photo booths are designed so they can break down and be moved through narrow walkways and even up/down stairs. This allows for transporting the booth to the event location with no issues.
The actual photo booth dimensions are 61"L x 39"W x 79"H, and they can be backed into a corner or against a wall. You will be responsible for providing power within 5 feet of the set up location (a normal 3 prong outlet and/or 3-prong extension cord is sufficient). The flooring needs to be flat and level. For best pictures, no overhead lighting, natural or artificial, should be shining directly into the booth.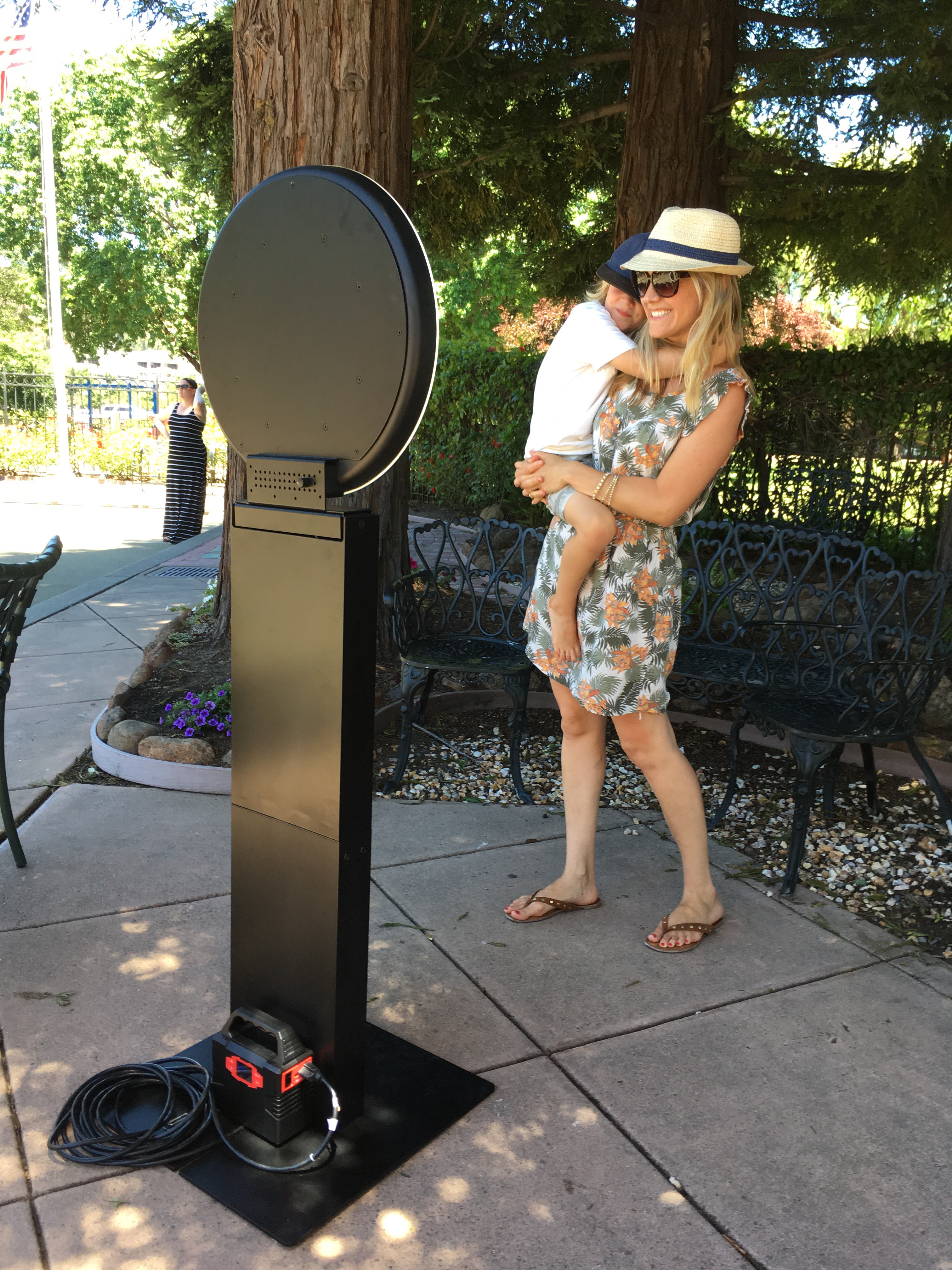 Meet our new "open" photo booth, where instead of physical prints, guests can text & e-mail the unlimited photos to themselves LIVE during the event. Or if there is no WIFI connection, then guests will get their photos texted/emailed the day after the event, or as soon as our booth is hooked up to the internet.
No power, no problem. Our open photo booth can run my battery power, so it will work even in remote locations.